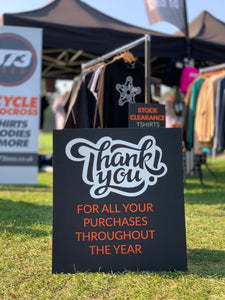 British Championship 2019 - THANK YOU.
What a cracker of a weekend 😎
The Brits never seems to disappoint, huge shoutout to Derby BMX Club for putting on a brilliant event, it's almost been the home of the Brits for the past few years and once again they were greats hosts for the end of season spectacular.
We'd just like to say a massive massive thank you to everyone who has supported this little brand over this past year, without you there is no b73tees.
We've been trackside now for 7 years and made some amazing friends, the BMX community has made us feel very much part of the family. And we are still humbled every time we see someone in one of tees or hoodies... thank you 😘
Highlights this weekend.
The smiles and emotion of Richard and Jennie Bown as they came back into the trade area having just seen little Maggie become BRITISH CHAMPION... to share that moment with them was very special.
Similarly seeing Russ Brown with one of the widest smiles I think I've ever witnessed at a BMX track.. and getting a hug from a very emotional Ava Brown .. another BRITISH CHAMPION.
And then my mate Freia Challis ... who needs no introduction. Despite no 'official' affiliation with her as a rider, she never fails to come and keep me updated on how her days racing is going... she's a real star and to take 2nd spot with the 'Boys' was just unreal, particularly how the race unfolded... just wow.
Final thank you...
Rich Townsend... Mr Pure Bicycles for being the bestest Trading neighbour in BMX, for all the banter and for making us part of the Pure gang 😎 besides being so handsome, he's the hardest working bloke I know.
We'll be trackside (well almost) at Racing Under Roof over the winter and may try and fit some other events in between as well..
Once again... thank you and see you all soon.
Dave and Emma - B73tees
---